Dahihandi Celebration Photo: The excitement of Shri Krishna Janmashtami and Dahihandi can be seen all over the country. No festivals have been celebrated in the past two years during the Corona period. But this year, as the festival is celebrated after two years, there is a lot of enthusiasm and joy among the citizens. Today many places like Mumbai, Thane, Navi Mumbai celebrate Dahi Handi and very large Dahi Handi have been installed in many places. Even in Thane, famous for Dahi Handi, many teams have been seen competing to break Mana Handi. Govinda teams were seen cheering in suburbs including Mumbai, Thane. Jai Jawan's team, which sets records every year, is also in the spotlight this year. Team 'Jay Jawan' Govinda of Jogeshwari gave a nine-layered salute. Chief Minister Eknath Shinde also participated in the Dahi Handi celebration.
Konkan Nagar Jogeshwari Govinda team consisting of 9 layers
Two years later, during Dahihandi celebrations, Kokan Nagar Jogeshwari Govinda team saluted by putting on 9 layers. A single cheer was given after the team gave the 9-level salute. On this occasion, the Govinda teams received money and souvenirs as prizes. This handi was set up by Maharashtra Navnirman Sena at Bhandup in Mumbai. On this occasion, Jai Jawan's team gave a 9-layer salute. Then Govinda safely descended from all layers. Read also – Dahi Handi's excitement is overflowing in Mumbai this year; Here are today's heaviest photos
The excitement of Dahi Handi in Mumbai, Thane, Navi Mumbai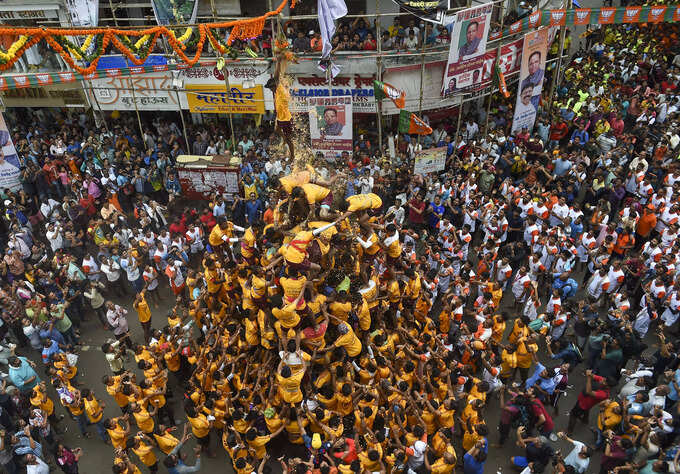 The Janmashtami Dahihandi celebration was seen on the streets of Mumbai. In Dadar's Ideal Book Depot lane, Govinda built seven layers. The Krishna Janmashtami festival also takes place in the Lal Bagh district of Mumbai and there too layers have been laid to break the dahi handi. Dahi Handi's enthusiasm was seen overflowing in the suburb of Mumbai, Thane. In Hiranandani Meadows, Tembhi Naka, other areas of Thane, a large crowd of Govinda teams, as well as a fight of Govinda teams to lay the most diapers were seen.
The little ones on the last layer wearing a harness, helmet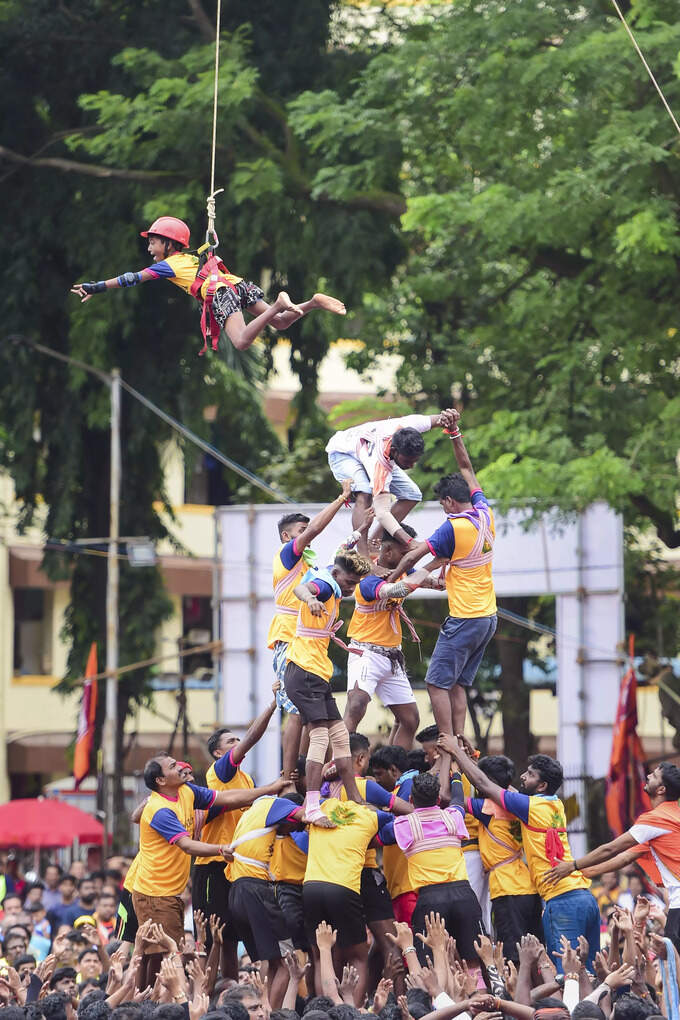 Dahi Handi saw the enthusiasm of adults and children alike. Many small ones had climbed on the last layer wearing harnesses and helmets to break the curd. Harnesses, helmets were used by Govinda teams for toddlers. Chief Minister Eknath Shinde had announced that Govinda would be given free treatment in government hospitals in case of an accident during Dahi Handi celebrations. Under this, instructions were given to provide free treatment in all government hospitals, medical colleges, Zilla Parishad hospitals, municipalities in the state.
'Handi was tall… but broke…'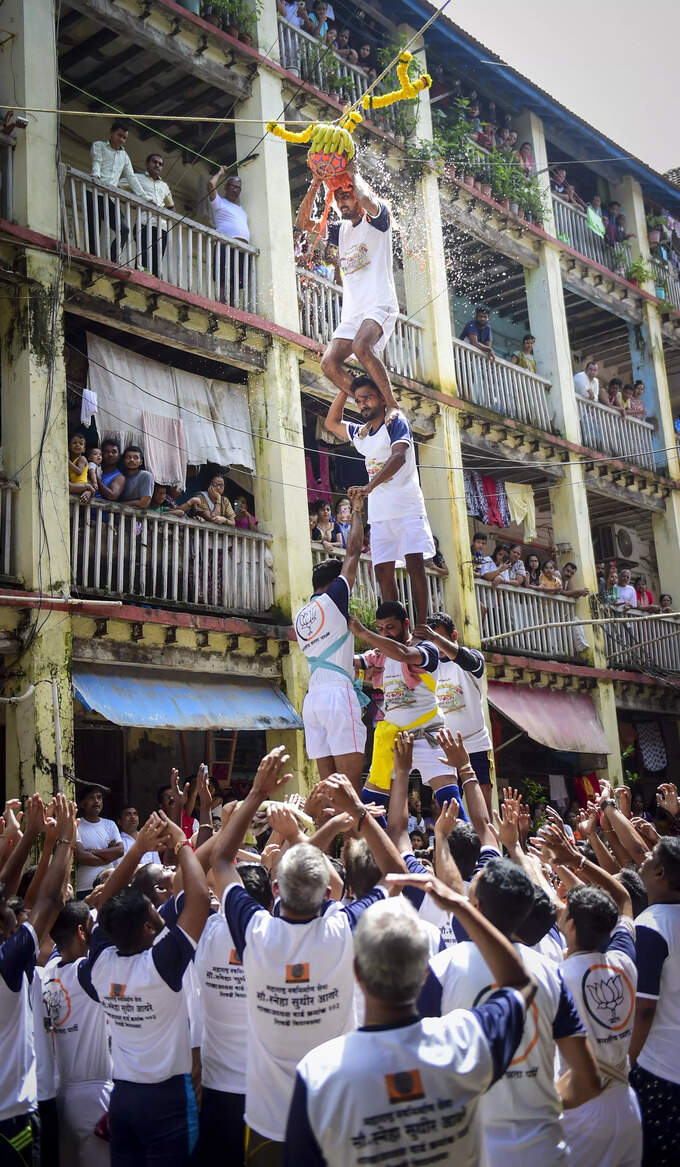 Eknath Shinde was also present in Dahi Handi in Tembhi Naka. On this occasion, he also sent his best wishes to Janmashtami and Dahi Handi. He said you are breaking all the handi here now, we also broke the biggest handi a month and a half ago. He said the handi was difficult…it was high but because of your wishes, because of Balasaheb's blessings, he broke the handi by applying 50 layers. Bollywood actress Shraddha Kapoor was also present for this dahidandi by Tembi Nakaya, known as Govinda's Pandhari.
Govinda, important decision on Dahidandi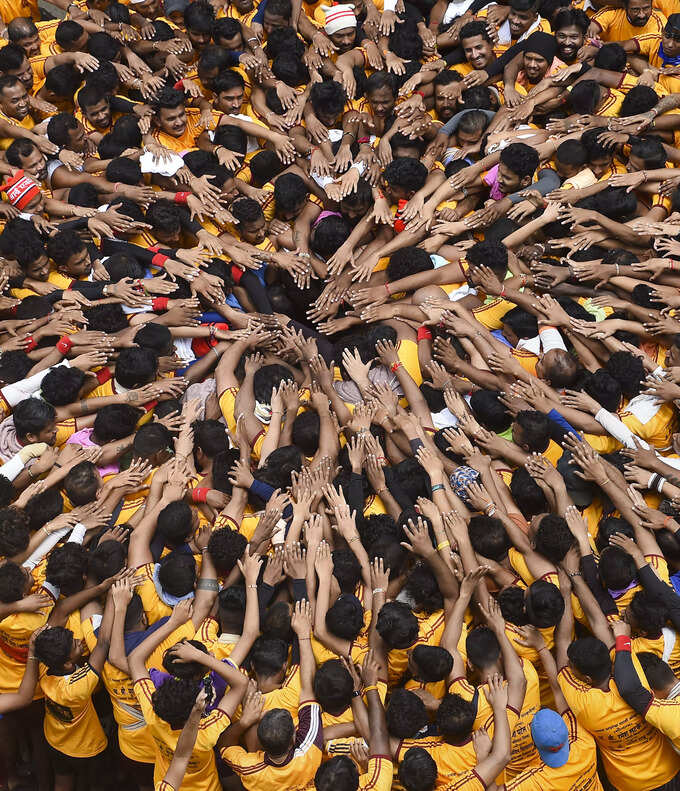 Three important decisions were made for Govinda. Dahihandi was recognized as an adventure sport from this year. Moreover, an insurance of 10 lakhs has been given for Govinda in case of any accident while applying the diaper during Dahi Handi. As of next year, Dahihandi, an adventure sport, will be recognized in the same way as Kho-Kho, Kabaddi. Like Pro Kabaddi, Pro Govinda was also announced by Chief Minister Eknath Shinde. The chief minister also said he would get a 5% quota in sports jobs.
.