In Thandiwe Muriuthe powerful photo series of Camouflage, dark-skinned female models are the focus. They stand in front of a wall of colorful African print fabrics; the end results are dramatic, psychedelic vistas. The Kenyan photographer focuses on beauty and fashion, deconstructing these ideas with an African lens and developing a thematic vocabulary in the process.
"I want my models to blend into the background even though they stand out," Muriu said. "It's a bit ironic."
In this visual landscape, Muriu organizes beauty as she sees fit. Hairstyles in long twists, spirals and other eccentric shapes that pay homage to her Kenyan heritage.
Thandiwe Muriu Camo Coin 33
Photo credit: Thandiwe Muriu
She has presented numerous photographic installations and exhibitions in international spaces such as Photo London Fair and Art Monte Carlo. His personal exhibition Colors of Thandiwe, which was presented at Maison Kitsuné in New York, has just ended. It is also presented in Venice by the 193 Gallery.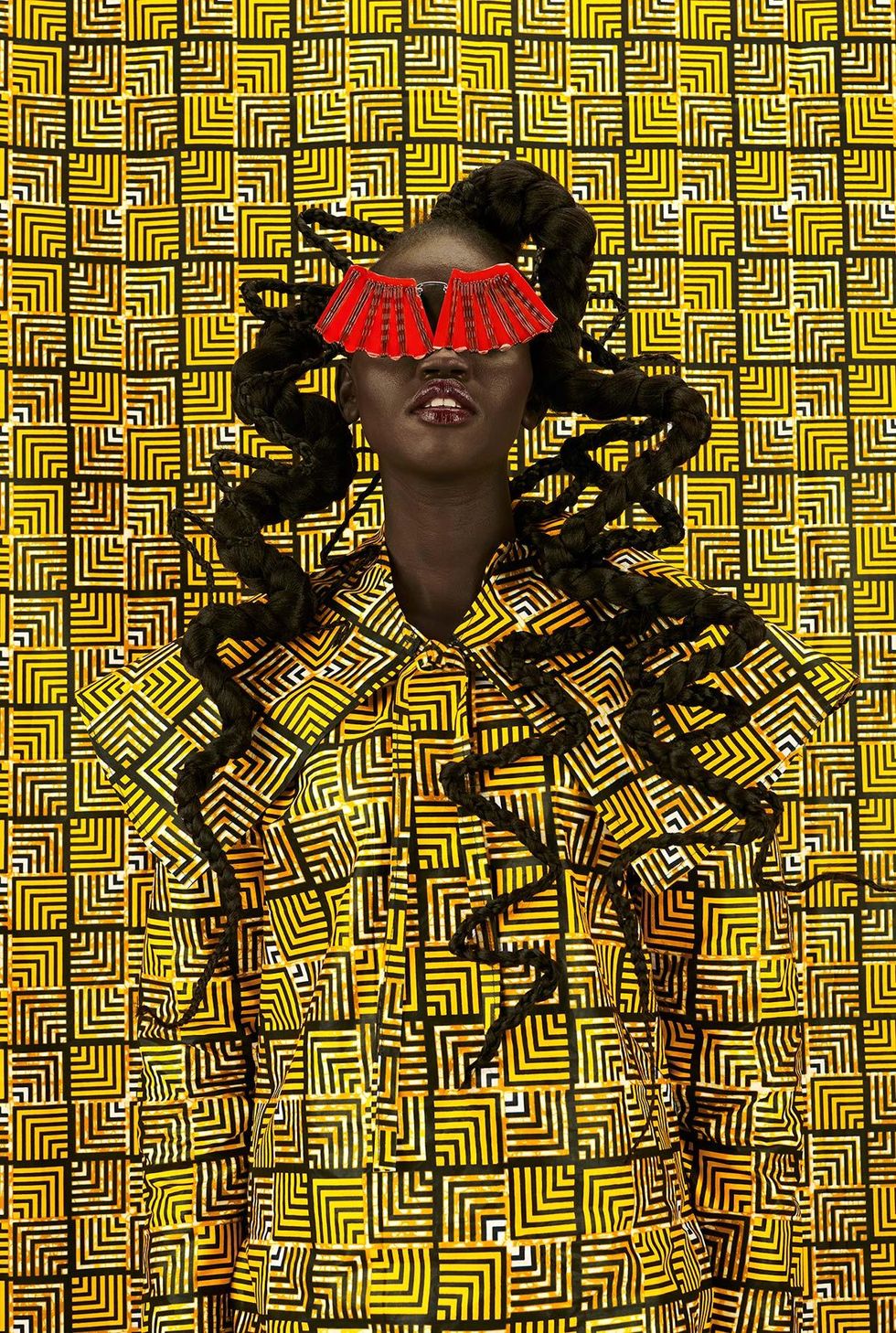 Camo Patch 08 by Thandiwe Muriu
Photo credit: Thandiwe Muriu
Convinced that she was naturally inclined towards art, her foray into photography began at the age of 14 when her father taught her and her sisters how to use digital cameras. She was inspired by the glossy Vogue magazines her older sister collected, wanting to create images like the ones she saw on the covers.
"I convinced my two sisters to model for me, using sheets as a background to create all these elaborate shoots," Muriu said. "For the lighting, I used aluminum foil as a reflector. I wonder if my mom ever figured out where all her foil went.
Facebook is where Muriu was first exposed to the public. When someone saw the photos she posted on the platform and asked her how much she would charge for a photo shoot, she realized she could forge a career in photography.
She had a steady stream of small clients and enough savings to buy her first camera. But a lot of conviction came after college when she had to consider job offers. His father reminded him of his love for photography. "It's like a light bulb has gone on in my head and I'm finally free to finally pursue my passion." Muru said.
She moved from taking portraits to commercial events and then ended up in commercial advertising photography, which she does to this day. In the meantime, she launched a Youtube channel on photography, a generous attempt to share his knowledge with others.
For the most part, Muriu's creative aesthetic is influenced by her own personal struggle with beauty – her hair, her skin and her identity as a modern Kenyan woman. In a world eroded by Eurocentric ideals of what it means to be beautiful, she wanted to celebrate herself and affirm other women who shared similar struggles. Her choice of dark-skinned models was to directly challenge skin bleaching practices in Kenya
Its Camo series is lively in character and elegant in execution. A strong manifesto on the themes that Muriu held dear, Camo is the abbreviation of camouflage. "It's titled that way because of how the subject of each image blends into the background," Muriu said. "It's a commentary on how, as individuals, we can get lost in the expectations that culture has of us. Yet there are unique and beautiful things about every individual.
Moreover, the photographic series attempts to counterbalance age-old notions of Africa. The result is complex and offbeat. "Poverty can easily distract from all the beauty and richness of cultures in Africa. There are great stories and people here. I am so proud to come from this continent," says Muriu. "For me, being African means being colorful and full of life."
The use of African textiles has become a recurring theme over time, along with everyday objects used as accessories on models. Kenyans are resourceful people, as objects can be used for purposes other than their intended purpose. Plastic wearable mirrors are used not only for looking at themselves, but also as side mirrors on a bicycle weaving through traffic or even as decorative clothing accessories on a Maasai warrior. With that in mind, Muriu transformed objects around her into wearable art.
In Camo 2.0 4452, she uses plastic hair combs to form a crown on a model's head. These combs are generally used for daily grooming here in Kenya by both men and women. Camo 08's goggles are made from hairpins often found in hair stalls in distinct red and yellow fan-shaped rocks. These rocks have remained unchanged since the 80s. camouflage 29 uses mosquito coils and Camo 33 sprockets reminiscent of those found on popular Kenyan bicycle brand Black Mamba. The bottle cap hair in Camo 11 is directly inspired by how sodas (soft drinks) relate to its own culture.
"In the Kikuyu tribe, when a girl gets married, sodas are used as part of the dowry negotiation process," she said. "If the future bride consents to the marriages, she pours a soda for the in-laws when her fiancé comes solemnly to ask for her hand. Soda is almost always the traditional glass bottles as opposed to cans or plastic bottles.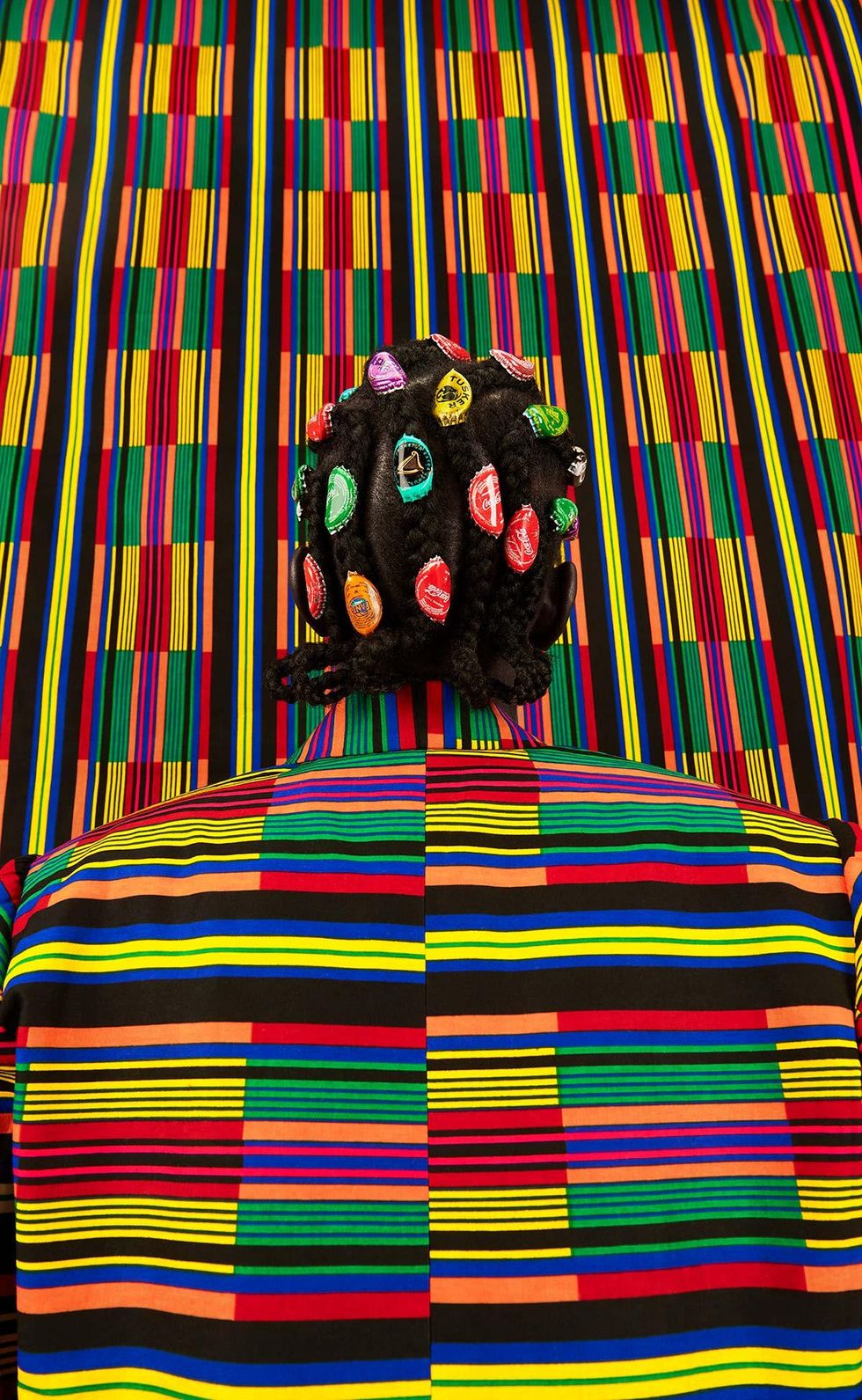 Thandiwe Muriu Camo Coin 11
Photo credit: Thandiwe Muriu
Storytelling is woven into Muriu's work through fashion. She loves how her imagination can be fuel for creativity as models pose using clothing, props, mood and lighting. Of all her works, Camo remains her favorite because it gave her a deep appreciation for her culture in a way she had never had before.
"The objects that I use in my work are things that I interact with as a Kenyan. They have been used throughout my childhood. For most Kenyans, objects are an integral part of our daily lives and are often an important component of beauty culture."
From articles on your site
Related articles on the web