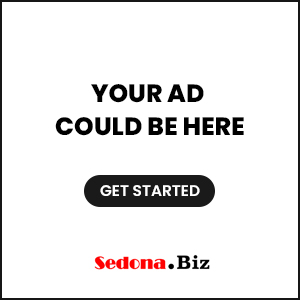 …as expected, it was a great day with lots of accomplishments and lots of friends added to the joy. Tomorrow, as long as he comes, will also be a delight and while waiting for a rainy day… it could lead to listening to Max's advice 🙂 Nah, I'll find an excuse!
The photo above captures Quinn. a dark-shaped rusty hawk as it cruises over the high desert in search of a rabbit, squirrel, or other food source. Unlike Red Tails and other hovering hawks and falcons, ferrugins, Harrises and other raptors cruise low over fields so that when they spot prey ahead of them a short descent gathers talons and the preys. It's only about 20 mph, which still covers a lot of ground.
Below is a view of the Sedona area which is unique. I was at 8,125′ several miles E and S of the Village when I took the photo. Looking to the N and on the left side of the photo you can see the community of Pine Valley and about mid-center Jacks Canyon takes a steep 90 degree turn to the NW. The red rock formation at the end of the line is Lees Mountain, following the mountain N inside the canyon, after the green area next to the red rocks Munds Mountain begins and this is on the highest part of Munds Mountain that the fire has been burning for the past week or so. Jacks Canyon empties into the grand canyon above downtown along with Oak Creek Canyon, Munds Canyon and more. The airport is visible just above Lees Mountain and on the horizon, left to right Bill Williams Mountain, passing Sitgreaves Mountain and Kendrick Peak to the right…the red rock area is not very big!
It's time to wrap up the day…have a great day!
Cheers,
Ted
The green of all the fields is mine,
The stars, the night, the wind at play,
A peaceful heart, all in silence
I go my way.
excerpt from I Go My Way by Max Ehrmann
###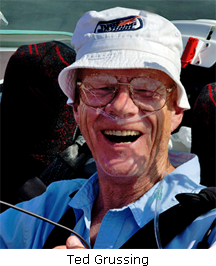 The easiest way to reach Mr. Grussing is by email: [email protected]
In addition to photography sales already taken Ted does special shots for clients on request and also does air to air photography for those who want pictures of their planes in flight. All special photography sessions are billed on an hourly basis.
Ted also runs one-on-one workshops for those who want to learn the techniques he uses. By special arrangement, Ted will run one-on-one aerial photography workshops which will include real photo shoots in the air.